Fosamax for
Pre-Osteoporosis,
A Bad Idea

by
Jeffrey Dach MD
A number of patients have recently told me their primary care doctors started them on Fosamax for "pre-osteoporosis" a condition less severe than full blown osteoporosis, also called "osteopenia". This is a very bad idea.


Two Problems Here

Problem One:
The Fosamax (Alendronate) medical study for FDA approval failed to show any benefit for the osteopenia group. Fracture rates actually went up for the osteopenia group.
This data
was published by Cummings in JAMA in 1998 (the FIT study, which stands for Fracture Intervention Trial).
The FIT data revealed that Fosamax (Alendronate)
doubled
the risk of hip fractures in women with a femoral neck T score greater than -2.5. There were
6 hip fractures
(0.4%) in the
placebo group
vs.
11 fractures
(0.8%) in the
Fosamax group
.
Problem Two:
Bisphosphonates drugs like Fosamax have severe adverse side effects of jaw necrosis (OJN), spontaneous femur fracture, atrial fibrillation (a heart rhythm disturbance), and severe bone and joint pain. Another common adverse effect is esophageal erosion, heartburn and esophageal reflux.
A few definitions:
Osteoporosis is defined as a DEXA T-Score of minus 2.5 to minus 3.5. Pre-osteoporosis is defined as a DEXA T-Score of minus 2.0 to minus 2.5.
Fosamax, A Bad Drug in Litigation

How to Recognize a Bad Drug?


One of the early warning signs of a bad drug is ongoing drug litigation for adverse side effects. This calls the drug into question as a "BAD DRUG".
Fosamax drug litigation began this month (Aug 2009) against Merck by plaintiff,
Shirley Boles, age 71,
who suffered
ONJ (osteonecrosis of the jaw) allegedly from Fosamax. OJN, osteonecrosis of the jaw, is a well known adverse side effect of Fosamax, which has been heavily documented in the dental and oral surgery medical literature. Merck faces an onslaught of more than 900 cases awaiting litigation.
Spontaneous Femur Fracture Induced by Fosamax


Another warning sign of a BAD DRUG is spontaneous femur fractures (with no trauma) that occur in women on Fosamax. A number of these embarrassing
reports
have appeared in the New England Journal of Medicine and the Orthopedic Surgery medical literature.
FDA Warning of Fosamax Induced Bone and Joint Pain


Another sign of a BAD DRUG is an FDA Warning letter. Physicians received such a
warning letter
telling then about severe, incapacitating bone and joint pain caused by Fosamax. What causes this ? No answer there. I would suggest multiple micro-fractures as the cause for the severe bone pain.
Left Image: Spontaneous femur fracture on Fosamax, courtesy of
Dr Lane and NEJM
.
Consumer Complaints Against Fosamax

Another warning sign of a bad drug is the number of consumer
complaints on message boards
which can be seen by anyone with an internet connection.
Why is Fosamax a BAD Drug ?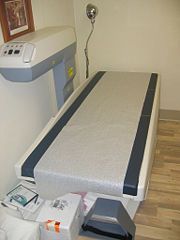 There is no question that follow up DEXA BONE SCANS show improving bone density on Fosamax. So why is this a bad drug?
The answer is this increased bone density is cosmetic and does not equate with stronger bone. Simply put, the drug creates pathologic bone that is weak and brittle. The fosamax treated bone is actually more prone to spontaneous fracture and necrosis, not less so. The drug actually does the reverse of what it is intended for.
left image: Dexa Scanner courtesy of wikimedia commons
Reverse Osteoporosis Naturally-Our Program

Rather than use a bad drug like Fosamax, a far better solution for reversing osteoporosis is a combined program of lifestyle modification, diet, nutrition, exercise and bio-identical hormone supplementation.
1) Modify diet to an alkaline diet which halts calcium loss as a buffering agent for acid excretion. Use home pH testing to determine success.
2) Nutritional supplement with high quality calcium product containing bioavailable calcium, magnesium, boron, strontium, and Vitamin K.
3) Test for and optimize Vitamin D and Magnesium levels.
4) Regular Weight bearing exercise program as tolerated.
5) Test for and optimize hormone levels for estradiol, progesterone, testosterone, and DHEA.
Latest Update:
Fosamax Trial Ends in Mistrial Sept 22 2009.
Links to Related Content


Fosamax Induced Femur Fractures by Jeffrey Dach MD
Fosamax, Actonel, Osteoporosis and Toulouse Lautrec

Osteoporosis web page on jeffrey dach md Web site
Links and References

http://www.newsinferno.com/archives/2326
Actonel, Fosamax, other Osteoporosis Drugs Draw FDA Pain Warning Date Published: Monday, January 7th, 2008
Actonel, Fosamax and other anti-osteoporosis drugs known as bisphosphonates have been linked to severe and sometimes incapacitating bone, joint, and muscle (musculoskeletal) pain, the Food & Drug Administration (FDA) warned today. Although severe musculoskeletal pain is included in the prescribing information for all bisphosphonates, the FDA said that the association between bisphosphonates and severe musculoskeletal pain may be overlooked by healthcare professionals, delaying diagnosis, prolonging pain and impairment, and necessitating the use of analgesics.

Bisphosphonate, sold under the brand names Actonel, Actonel+Ca, Aredia, Boniva, Didronel, Fosamax, Fosamax+D, Reclast, Skelid, and Zometa, are commonly used in tablet form to prevent and treat osteoporosis in post-menopausal women.

According to today's FDA warning, the severe musculoskeletal pain associated with bisphosphonates may occur within days, months, or years after starting a bisphosphonate. Some patients have reported complete relief of symptoms after discontinuing the bisphosphonate, whereas others have reported slow or incomplete resolution.

Bisphosphonates have been linked to a variety of other safety problems. In October, the FDA announced that it was reviewing the drugs after studies showed patients taking bisphosphonates ran a higher risk of irregular heartbeat.

Research published in the May 7 issue of the New England Journal of Medicine found that bisphosphonates appeared to increase the risk of irregular heartbeats in some older women. Researchers conducting a review of a 1997 study of postmenopausal women on Fosamax found that there appeared to be 50 percent more risk of the serious heart rhythm irregularities in women who took the daily pill than among those who didn't take it. About half of the 6,459 women took Fosamax, and 47 developed atrial fibrillation, compared to just 31 cases among the other women.

Fosamax has also been linked to Osteonecrosis of the Jaw (ONJ), also known as Dead Jaw Syndrome, a condition in which the bone tissue in the jaw fails to heal after minor trauma such as a tooth extraction, causing the bone to be exposed. The exposure can eventually lead to infection and fracture and may require long-term antibiotic therapy or surgery to remove the dying bone tissue. In 2005, the Fosamax label was updated to include warnings about ONJ.
http://www.theage.com.au/world/down-to-the-bone-20090807-ecwy.html
Down to the bone RAY MOYNIHAN August 8, 2009
http://www.fiercepharma.com/story/bellwether-fosomax-trial-starts-today/2009-08-10
Bellwether Fosamax trial starts today August 10, 2009 — 10:35am ET | By Tracy Staton.

Merck faces some 900 lawsuits over claims that the drug causes a painful and irreversible decay of the jawbone. In this first case, Shirley Boles, 71, claims that Fosamax caused her osteonecrosis of the jaw--essentially, death of jawbone tissue--and that Merck knew about the risks as early as 1996.
http://www.bloomberg.com/apps/news?pid=20601103&sid=aN.O.OLorMnc
Merck Faces First Trial of Claim That Fosamax Attacks Jawbone By Thom Weidlich and Margaret Cronin Fisk Bloomberg News
Aug. 10 (Bloomberg) -- Merck & Co., the drugmaker facing 900 lawsuits over claims that its osteoporosis drug Fosamax causes the death of jawbone tissue, goes to trial tomorrow in a case that may affect all the others. The trial in New York of the first case of the group, filed by Shirley Boles, 71, will be one of three so-called bellwether cases that may point the way to out-of-court settlements.
Merck faced about 900 Fosamax cases as of June 30, including suits with multiple patients, the company said in an Aug. 3 regulatory filing. Whitehouse Station, New Jersey-based Merck, which is buying rival Schering-Plough Corp., had a reserve of about $42 million for the litigation, including lawyers' fees, it said. It hasn't set aside any money to pay damages, it said.
There are as many as 1,200 plaintiffs in state and federal cases, Merck says. Timothy O'Brien, a lawyer representing about 400 plaintiffs, said the number is closer to 2,000.
Sales of Fosamax last year, when the drug first faced U.S. generic competition, fell by half to $1.55 billion from $3.05 billion in 2007. Sales fell 44 percent to $261.3 million in this year's first quarter, Merck reported in April.
http://www.youhavealawyer.com/blog/2008/08/21/fosamax-lawsuits-pile-up/
1. Terejimenez Says: About one year and a half ago, I took Fosamax for 3 months during which I was severely sick and it was me who discovered that Fosamax was causing my pain in the joints, bones, face. I was in physical therapy , visited several doctors from several disciplines and no one could give me a diagnose . I am self employed and was unable to work for several weeks because I was seriously sick. After I decided to stop taking Fosamax I began to recover without any medicines and a week later I was the same I had been before, no pains, no sickness, no fever, no fatigue.

2. Diana Says: I took fosomax for three years and stopped when i finally realized that the pain in my muscels began after i started taking fosomax. Before fosomax I had no pain , I exercised at the gym almost every day and I felt great. I was 65 and the doctor put me on fosomax, after a few months I began to have a lot of pain, could hardly get out of bed because of pain, standing or sitting it did not make any difference. When I quit I could hardly walk any more because of the pain in my seat, lower back and legs. I am 71 and my muscels still react with pain if I exercise. I am very angry when I think about having taking fosomax when I felt so great and painless and now i still have times of pain mostly walking. I don't walk like I should or exercise be cause it iritates my back, hips and leg muscles.
Fosamax Lawsuits Continue to Pile Up Against Merck August 21st, 2008 by Austin Kirk
According to a report published last week by Lloyds Corporate Litigation Reporter, Merck & Co., Inc. faced approximately 655 Fosamax lawsuits involving over 1,000 plaintiff groups as of June 30, 2008. The lawsuits were filed on behalf of users who have suffered a disfiguring jaw condition, known as osteonecrosis of the jaw, and other side effects related to the oosteoporosis drug.
http://www.consumeraffairs.com/rx/fosamax.html
consumer complaints about Fosamax
http://www.fda.gov/Drugs/DrugSafety/PostmarketDrugSafetyInformationforPatientsandProviders/
ucm124165.htm
FDA Warning Letter on Fosamax


Jeffrey Dach MD
7450 Griffin Rd Suite 180/190
Davie, FL 33314
Phone: 954-792-4663
Facebook
Blog



Jeffrey Dach MD
7450 Griffin Road Suite 190
Davie, Florida 33314
954-792-4663
http://www.drdach.com/
http://www.naturalmedicine101.com/
http://www.truemedmd.com/
http://www.bioidenticalhormones101.com/
Disclaimer click here: http://www.drdach.com/wst_page20.html
The reader is advised to discuss the comments on these pages with his/her personal physicians and to only act upon the advice of his/her personal physician. Also note that concerning an answer which appears as an electronically posted question, I am NOT creating a physician — patient relationship.
Although identities will remain confidential as much as possible, as I can not control the media, I can not take responsibility for any breaches of confidentiality that may occur.
Copyright (c) 2014 Jeffrey Dach MD All Rights Reserved
This article may be reproduced on the internet without permission, provided there is a link to this page and proper credit is given.
FAIR USE NOTICE: This site contains copyrighted material the use of which has not always been specifically authorized by the copyright owner. We are making such material available in our efforts to advance understanding of issues of significance. We believe this constitutes a 'fair use' of any such copyrighted material as provided for in section 107 of the US Copyright Law. In accordance with Title 17 U.S.C. Section 107, the material on this site is distributed without profit to those who have expressed a prior interest in receiving the included information for research and educational purposes.
Serving Areas of: Hollywood, Aventura, Miami, Fort Lauderdale, Pembroke Pines, Miramar, Davie, Coral Springs, Cooper City, Sunshine Ranches, Hallandale, Surfside, Miami Beach, Sunny Isles, Normandy Isles, Coral Gables, Hialeah, Golden Beach ,Kendall,sunrise, coral springs, parkland,pompano, boca raton, palm beach, weston, dania beach, tamarac, oakland park, boynton beach, delray,lake worth,wellington,plantation