Migraine and Cluster Headaches by Jeffrey Dach MD

A Migraine is a throbbing, intense headache which afflicts 26 million people in our country. In this article we will discuss the typical features of Migraine headaches, causes, and treatments.
Features of Migraine Headache:
In the first stage of the Migraine, before the pain starts, there is vaso-constriction of the blood vessels and reduced blood flow to the eyes and brain. Symptoms during this phase may suggest you are having a stroke with visual disturbances such as zig zag lines or flashing lights, and nausea and vomiting.

The second stage of Migraine is associated with dilatation of the blood vessels and severe pain which may last for many hours.
Causes of Migraines: Food Allergies
While the causative mechanism of Migraines are not fully understood, the medical literature has clearly documented that Migraines are triggered by food allergies. In 1930, Dr. Balyeat reported 90% of patients improved with removal of the offending foods from the diet.
In the food allergy scenario, the immune system is activated by an offending food, which then attacks the blood vessel walls causing the pain.

Gluten sensitivity has also been implicated in Migraines, as well as causative for other more serious neurological disorders. Gluten is a substance found in wheat and bread. Elimination of gluten will lead to improvement for many Migraine sufferers.
There are two ways to identify the offending food allergies. The first method is the process of elimination. Remove the suspected food and observe improvement. Follow this by re-introducing the offending food and observe worsening of symptoms. However, this method may be tedious and time consuming for testing a large number of foods. Another more rapid method is to use food allergy blood testing.

Food Sensitivity Testing Companies:

ALCAT labs offers food sensitivity testing.

Immunolabs offers a blood testing for antibody reactivity to a list of foods.

Causes: Fluctuating Hormone Levels
If the Migraine headaches tend to recur 4 to 5 days before the end of the menstrual cycle, this is called a Pre-Menstrual Migraine and is caused by rapidly dropping estrogen levels.

Dr. Uzi Reiss, in his book
Natural Hormone Balance for Women: Look Younger, Feel Stronger, and Live Life with Exuberance
, advocates treating Pre-Menstrual Migraines with sublingual bio-identical estrogen drops and natural progesterone which stabilizes hormone levels.



Current Drug Treatment for Migraines:

Mild over-the-counter pain pills combined with a cup of coffee may all that is needed to abort a Migraine attack. If this is ineffective, stronger prescription medication is available in two major categories: the older ergot derivatives (Ergotamine, Migranal) and the newer triptans such as Imitrex, Relpax and Zomig. These medications are designed to abort a Migraine attack at its onset. As usual, they do have dangerous interactions with other drugs as well as adverse side effects. For example, the triptans cause vasoconstriction which can cause heart problems.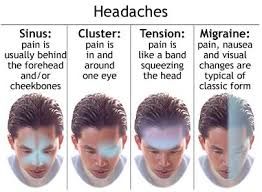 Medication Overuse Headache

Pain Medications May Perpetuate Your Headaches:
Paradoxically, the same pain medication taken for the Migraine headache can itself be the cause of frequent repeated headaches. This condition is known as Medication Overuse Headache (MOH). According to the International Headache Society, this may be your problem if your headache occurs daily, and you have been taking pain pills or Migraine headache medications for more than 10 days per month. Spontaneous improvement of the headache occurs a few days after discontinuation of medication. (This is best done under a physicians supervision).
Natural Treatment with Botanicals

Feverfew:
Feverfew is an ornamental flower and herb which was first described as a headache remedy two thousand years ago by the ancient Greek physician Dioscorides. Feverfew is useful for decreasing the severity and incidence of Migraines. However, it is not effective treatment once an attack has started.
In a study published in Phytotherapy Research in 1997, Dr. Palevitch found that Feverfew gave a profound reduction in the severity of symptoms of Migraine attacks, such as vomiting, nausea, and sensitivity to noise and light.
Look for a Feverfew supplement which contains feverfew leaves and 0.2% or higher parthenolide. The usual dosage of Herbal Feverfew in capsules or tablets is 250 to 600 mcg. of parthenolide per day It may take four to six weeks before benefits are noticed. Feverfew may cause minimal side effects such as gastrointestinal upset and nervousness. No drug interactions have been noted.

Buy
Feverfew
on Amazon

Butterbur - Petadolex

Butterbur has been shown effective in treatment and prevention of Migraines.

Buy Butterbur-Petdolex



Natural Treatment with Magnesium and Riboflavin:

Dr. Peikert reported in the June 1996 issue of Cephalalgia that oral magnesium supplements (600mg/day) reduced migraine attacks by 40%. Dr. Demirkaya reported on the efficacy of intravenous magnesium sulfate in the treatment of acute Migraine attacks in the Feb 2001 issue of Headache in which he effectively ended Migraine attacks in 14 of 15 patients with this natural and safe mineral.

Buy Magnesium

In a controlled study published in 1998 in Neurology, Migraine patients who took 400 mg daily of Vitamin B2 (riboflavin) reported 40 % fewer Migraines

Buy

Riboflavin
on Amazon

Lithium Orotate for Cluster Headaches

Dr Peatfield reported in a 1981 article , Lithium to be effective for cluster headaches. Dr Ekbom reported in 1997 in Headache, that Lithium is effective for Cluster Headache.

Buy Lithium Orotate.

Jeffrey Dach MD
7450 Griffin Rd Suite 180/190
Davie, FL 33314
Phone: 954-792-4663
Facebook
Blog



Jeffrey Dach MD
7450 Griffin Road Suite 190
Davie, Florida 33314
954-792-4663
http://www.drdach.com/
http://www.naturalmedicine101.com/
http://www.truemedmd.com/
http://www.bioidenticalhormones101.com/

Disclaimer click here: http://www.drdach.com/wst_page20.html
The reader is advised to discuss the comments on these pages with his/her personal physicians and to only act upon the advice of his/her personal physician. Also note that concerning an answer which appears as an electronically posted question, I am NOT creating a physician — patient relationship.

Although identities will remain confidential as much as possible, as I can not control the media, I can not take responsibility for any breaches of confidentiality that may occur.

Copyright (c) 2014 Jeffrey Dach MD All Rights Reserved
This article may be reproduced on the internet without permission, provided there is a link to this page and proper credit is given.

FAIR USE NOTICE: This site contains copyrighted material the use of which has not always been specifically authorized by the copyright owner. We are making such material available in our efforts to advance understanding of issues of significance. We believe this constitutes a 'fair use' of any such copyrighted material as provided for in section 107 of the US Copyright Law. In accordance with Title 17 U.S.C. Section 107, the material on this site is distributed without profit to those who have expressed a prior interest in receiving the included information for research and educational purposes.

Serving Areas of: Hollywood, Aventura, Miami, Fort Lauderdale, Pembroke Pines, Miramar, Davie, Coral Springs, Cooper City, Sunshine Ranches, Hallandale, Surfside, Miami Beach, Sunny Isles, Normandy Isles, Coral Gables, Hialeah, Golden Beach ,Kendall,sunrise, coral springs, parkland,pompano, boca raton, palm beach, weston, dania beach, tamarac, oakland park, boynton beach, delray,lake worth,wellington,plantation